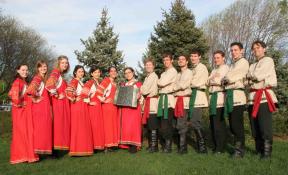 My old choir from Chicago, Golosa, is coming to New York City on Tuesday, March 22nd, as part of their East Coast tour. They'll be performing a free concert, at 8pm at Shrine World Music Venue in Harlem (map).
If you're in New York City, come! Golosa rocks. Don't take my word for it — listen for yourself. There's nothing else like them. They'll have CDs for sale at the concert.
If you can't make that concert, but you're somewhere near Boston or New York, you may be able to catch them at one of their other East Coast performances, starting this Saturday (all shows are open to all ages):
Sunday 3/20, 11:00 a.m.
Free concert
Morning service at Old South Church
645 Boylston St.
Boston, MA.

Monday 3/21, 7:00 p.m.
(with hosts Yale Slavic Chorus)
Free, with optional donation
House concert
235 Dwight St.
New Haven, CT
This show will take place in a private residence; please RSVP to golosa@golosa.org if possible, but it's fine to come even if you haven't responded.

Tuesday 3/22, 8:00 p.m.
Free concert
Shrine World Music Venue
2271 Adam Clayton Powell Blvd.
New York, NY.

Wednesday 3/23, 7:00 p.m.
(with Elm City Girls Choir)
Free concert
St. John's Episcopal Church
768 Fairfield Ave.
Bridgeport, CT

Thursday 3/24, 7:00 p.m.
$15, $12 for museum members (tickets available at the door, or call 978-598-5000, extension 17)
Museum of Russian Icons
203 Union St.
Clinton, MA.

Saturday 3/26, 3:30 p.m.
$15, $13 for Passim members (tickets available at the door or online at www.passim.org)
Club Passim
47 Palmer St.
Cambridge, MA.
This show will be webcast live, viewable at concertwindow.com/passim during the time of the show (EST).